Product Description
Custom Security Steel Gate
The current anti-rust measures for iron doors are hot-dip galvanizing. Hot-dip galvanizing is to melt zinc metal at a high temperature of 1200-1500 degrees Celsius, and immerse the finished product in a high-temperature zinc bath. After soaking, the surface of the iron door will be covered. A layer of 60-80UM thick zinc, sprayed with anti-rust paint + customer-selected color paint after polishing. In this way, the iron gate can achieve the overall effect of not rusting for 30 years. Our existing iron doors are on sale, with many styles, welcome to consult.

Our company was established in 1990, mainly produces and sells all kinds of high-quality styles iron doors, iron door for room, iron gate doors for sale, etc. Our technical backbone is composed of experienced designers and technicians to ensure that every product we produce is of high quality, unique and durable. Customers are welcome to consult and order.
We have many other items that you are interested in: Villa Front Door, wrought iron fence, wrought iron gate, Wrought Iron Doors, Iron Furniture, Wrought Iron Garden Doors, etc. Please feel free to contact us for more details.
Quality
Security,
elegance, durability
are just some of the qualities that characterize an iron entry
door. Quality, attention
to detail and delicate craftsmanship make our doors
stand
above the rest.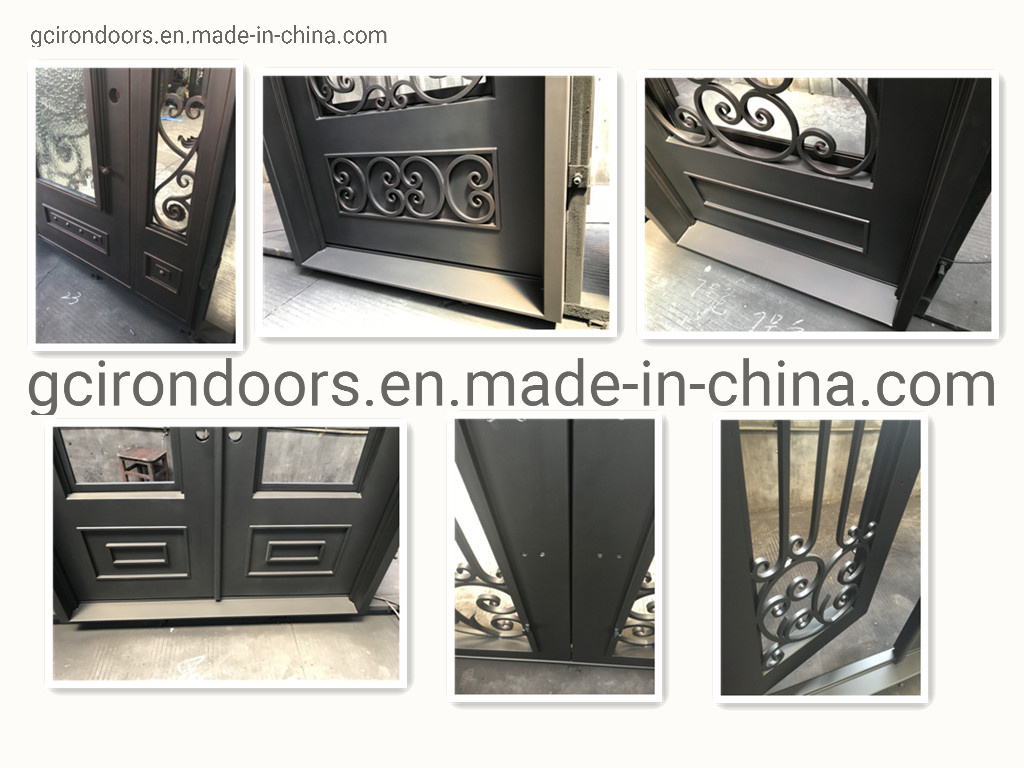 Design
Choose from one of our many styles or design one of your
own. With
limitless design
capabilities
, we are able to provide a door to suit the customer
'
s exact
specifications. Designs
can range from simple and
elegant
to ornate and bold. Door styles are highly
customizable. In
addition
to the designs, customers can pick the type of glass,
hardware, door
bases and
colors. If
our designs and countless customization
can't
fit your needs, GC iron doors can custom design and fabricate one for you.
Why Choose Us:
1.Owners has more than 15 years experience on this industry and strong quality awareness.
2.Excellent factory management&Strict quality control in every production process,collecting skilled and quite experienced blacksmith and painter.
3.Our factory warrants its products to be free from defect in workmanship,finish and glass panel.The warranty speaks for itself.
4.Professional sales team provide in-time service on following your orders, our CAD designers work amny unique custom designs or detailed cad drawings as per your design photoes.
5.we are your right and reilable business partner with good reputation.
What our customer say about our product: