Product Description
Beautiful Scrollwork Iron Gate
The high-end iron gate faces southwest;A lucky elephant sitting in a house facing northeast and southwest. It is a fleeting position that is very suitable for the office environment. It is appropriate to start a business. There is much joy in making a fortune and getting promoted. The high-end iron gate faces northwest;Sitting in a house facing southeast and northwest is unlucky, which is especially unfavorable for middle-aged women. The family is at odds and the fortune is hampered.
High-end iron gate. The high-end iron gate faces the northeast;The house sits in the southwest facing northeast. This is a relatively auspicious feng shui orientation. Beautiful on the inside and plain on the outside, it is a fleeting position that is very suitable for families to live in. The high-end wrought iron gate faces the east;The house that sits west-facing east is lively. It is also a fleeting position suitable for entrepreneurship. But the home is not very lucky in the fleeting years. Middle-aged men worry about their health. The high-end iron gate faces the west; Sitting in a house facing east and west, he is in good health and happy family, but his career has fallen and he has no ambitions. Sitting on the south-facing north-facing house declining elephant. There was a lot of disputes, the right and wrong were constant, and the fortune was mediocre.
The house facing the north and the south has a peaceful atmosphere, and the fortune fortune is weakened, but it will not decline. It's better to be successful, not to start a business. You can customize the installation of iron gates according to your needs.
We are an iron products company located in Dongguan City, Guangdong Province, mainly selling iron gate fence, iron gate grill, iron gate garden inn, etc. More than 90% of our products are sold all over the world, mainly to the United States, Canada, Europe and the Middle East. The products are beautiful and high in quality, and are well received and praised by customers at home and abroad.
We have many other items that you are interested in: Villa Front Door, wrought iron fence, wrought iron gate, Wrought Iron Doors, Iron Furniture, Wrought Iron Garden Doors, etc. Please feel free to contact us for more details.
Quality
Security,
elegance, durability
are just some of the qualities that characterize an iron entry
door. Quality, attention
to detail and delicate craftsmanship make our doors
stand
above the rest.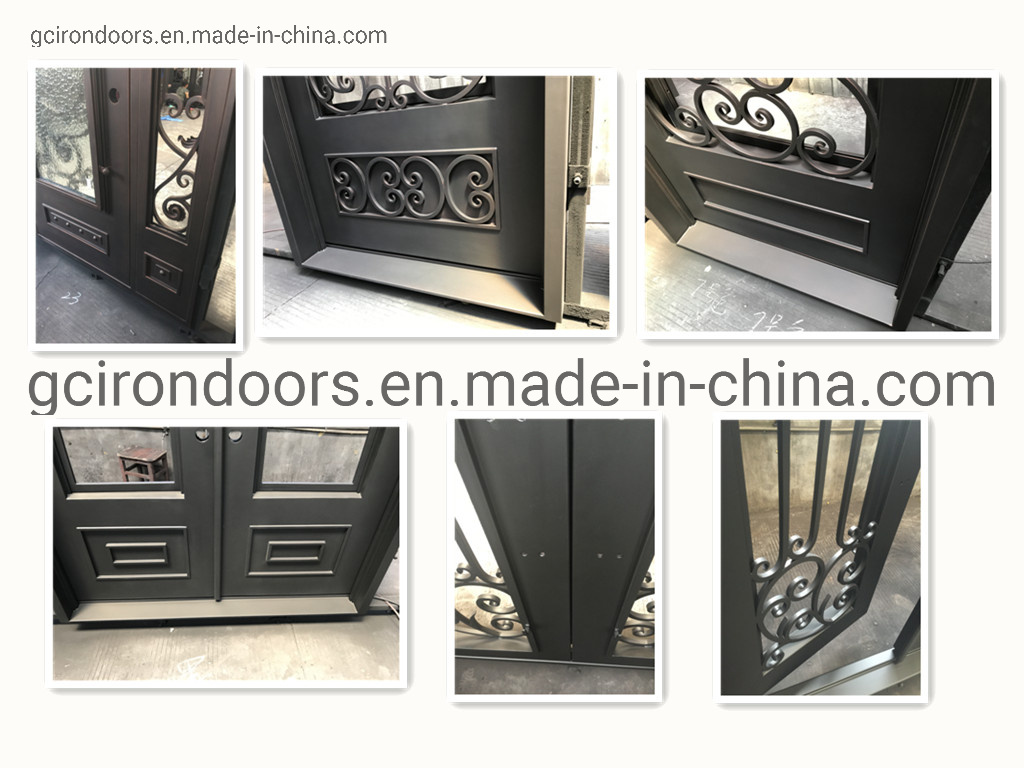 Design
Choose from one of our many styles or design one of your
own. With
limitless design
capabilities
, we are able to provide a door to suit the customer
'
s exact
specifications. Designs
can range from simple and
elegant
to ornate and bold. Door styles are highly
customizable. In
addition
to the designs, customers can pick the type of glass,
hardware, door
bases and
colors. If
our designs and countless customization
can't
fit your needs, GC iron doors can custom design and fabricate one for you.
Why Choose Us:
1.Owners has more than 15 years experience on this industry and strong quality awareness.
2.Excellent factory management&Strict quality control in every production process,collecting skilled and quite experienced blacksmith and painter.
3.Our factory warrants its products to be free from defect in workmanship,finish and glass panel.The warranty speaks for itself.
4.Professional sales team provide in-time service on following your orders, our CAD designers work amny unique custom designs or detailed cad drawings as per your design photoes.
5.we are your right and reilable business partner with good reputation.
What our customer say about our product: